June 8th – 9th Weekend Tournament Recap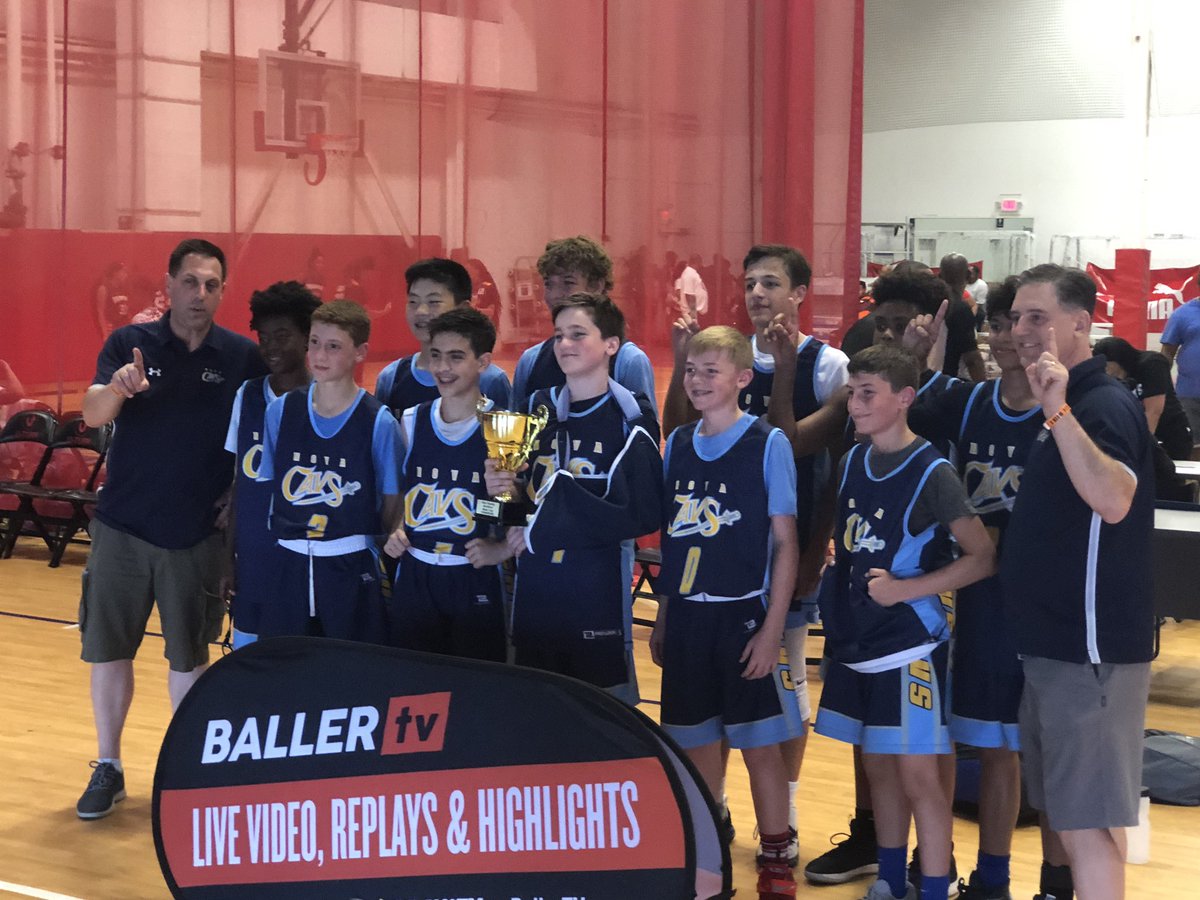 NOVA Cavs 13U-DeSenti team winning the Tournament Championship at the Zero Gravity Southern Super Cup at U-Turn Sports Academy in Richmond, VA
Arlington, VA / Richmond, VA / Washington DC / Boyds, MD –  Nine of the NOVA Cavs teams were in action this weekend around the Mid-Atlantic region.
Congratulations are to our 13U Cavs-DeSenti winning their first Tournament Championship of the year at the Zero Gravity Southern Super Cup down at Richmond, VA.  Our 7th grade team went 3-1 in their first overnight/travel tournament of the season.  Way to go guys!
Our 15U Cavs-Corish's team continue their hot streak as they won the Tournament Championship for the second consecutive weekend.  They went 2-1 in the pool-play, but advanced into the Tournament Final against a tough LABMADE Black team.  Coach Corish's team avenged their earlier loss and won their fourth titles of the season  They have been on a roll recently and playing excellent team basketball.
NOVA Cavs 15U-Corish team crowned as the Tournament Champions at the Premier 1 East Coast Clash at Marymount University in Arlington, VA
For the other Cavs, our 15U Cavs-Sullender team had a nice weekend as they finished 3-1 in the Crossover Hoops DMV Challenge in Boyds, MD.  The 16U Cavs-Gray Mendes also went 2-1 in the Battle at the Brock, playing terrific team basketball throughout the weekend and almost took down 434 Select from VA Beach.  Lastly, our 17U Cavs-Lin team had a solid day at the George Washington University Team Camp and went 2-0 on the day, with victories over Team Melo 15/16U and Buzz City.
Next weekend, six of NOVA Cavaliers team will be in action, highlighted by 17U-Lin and 15U-Corish will travel up to Boston and participate in the BasketBull Summer Tip-Off event at Springfield, MA.
Go Cavs!
Game Results from the weekend:
12U Young
30-33 Loss to Royal Fury
29-39 Loss to Loudoun Flexx – Durst
53-27 Win over MADE Hoops
13U DeSenti
43-42 Win over Hanover Havoc
27-41 Loss to Maryland Ruff Riders
45-28 Win over Team Marsh – Lawrence
30-29 Win over Maryland Ruff Riders
14U Roller
22-48 Loss to MADE Hoops Elite
35-49 Loss to DMV Panthers
47-51 Loss to Gainesville Travel
15U Sullender
42-33 Win over FBCG Disciples
51-50 Win over AIP
46-24 Win over HC United
34-50 Loss to Laurel Lakers – Gray (Final)
15U Corish
46-36 Win over Team Ultimate
51-37 Win over Team LABMADE Grey
37-41 Loss to MADE Hoops
33-32 Win over Team LABMADE Black (Final)
16U Gray-Mendes
69-53 Win over VA Havoc
46-51 Loss to 434 Select (Overtime)
49-42 Win over Culpeper Heat
16U Callaghan
33-62 Loss to ProLook – Robinson
49-51 Loss to Higher Level Gainesville
48-34 Win over Capital City Thunder
45-16 Win over Above All Odds
17U Fort
41-45 Loss to ProLook – Gilreath
42-43 Loss to LBA Attack Sigma
17U Lin
49-45 Win over Team Melo
64-48 Win over Buzz City