May 12th – 13th Weekend Tournament Recap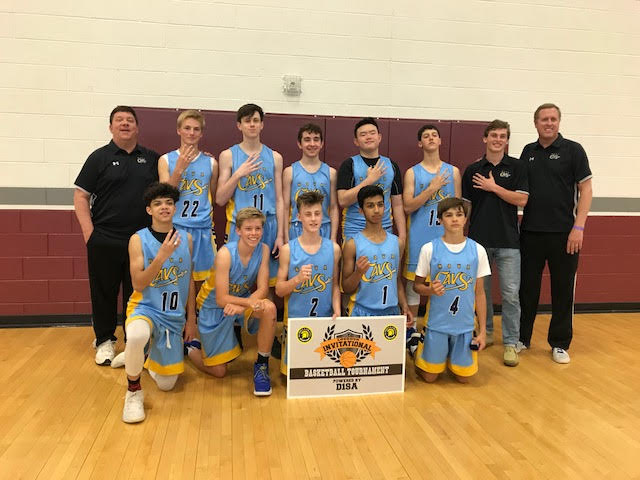 NOVA Cavs 14U-Corish team Winning the Loudoun Invitational Tournament in Ashburn, VA at Rock Ridge HS
Loudoun, VA / Arlington, VA / Fairfax, VA –  Eight of the NOVA Cavalier teams were in action this weekend.
Congratulations goes out to Coach Corish and his 14U NOVA Cavs for winning the Loudoun Invitational Tournament this past weekend in Loudoun, VA.  The 14U Cavs finished the tournament 3-1, with an impressive victory over Loudoun CDP in the Championship game.  Our 13U Cavs also had a strong weekend, as they completed the tourney in Loudoun with an identical 3-1 record.  The 12U-DeSenti went 3-2 in LIT and lost in the Silver Bracket Semifinal.
The 17U-Dashti Cavs team went 2-1 in the Big Shots Virginia Invitational Tournament this weekend at Paul VI Catholic high school.  Coach Dashti's team defeated Team NOVA PW Hoyas and IMG Performance, before succumbing to Crusader Nation in the tournament semifinal.  Our 14U-Sullender and 15U-Sawitzky each finished 1-2 in the tournament as well.
In the Premier 1 Events Play for Pink Champions Classic at Marymount University in Arlington VA, 12U-DeSenti's team finished 1-1, while 16U-Lin went 2-0 for the tournament.
Next weekend, our 17U-Dashti Cavs team will travel up to Springfield, Massachusetts to play in the BasketBull Hall of Fame Spring Classic.  Our 14U-Sullender, 15U-Sawitzky and 16U-Fort will play in the Mount Vernon Battle of Beltway Part 1 in Alexandria VA, while our 12U- Nickle, 13U-Roller and 16U-Lin will be in Towson, Maryland for the Premier 1 Events East Coast Championships.
Go Cavs!
Game Results from the weekend:
12U Nickle
20-28 Loss to Team Rise
28-23 Win over NOVA 94feet
12U DeSenti
39-58 Loss to D1SA Spartans – Williams
53-51 Win over CBSA – Hill
51-43 Win over D1SA Spartans – Hippler
45-29 Win over D1SA 2024 Kabban
33-41 Loss to Team Dedication 2024
13U Roller
42-17 Win over WDBA 7th – Julian
36-13 Win over CBSA – Hill
23-56 Loss WDBA 7th – Jerome
47-9 Win over D1SA – Noel
14U Sullender
35-46 Loss to Jayhawk Elite
54-45 Win over Team Takeover Orange
36-46 Loss to Man II Man Soldiers
14U Corish
49-56 Loss to The Campus
34-31 Win over D1SA – Santmyer
48-44 Win over East Coast Hoopers – Walker
55-52 Win over Loudoun CDP
15U Sawitzky
66-68 Loss to Crusader Nation
30-48 Loss to NOVA 94feet Blue
– Win over Fairfax Stars Maroon
16U Lin
41-30 Win over Elevate
41-12 Win over Fairfax Stars
17U Dashti
43-35 Win over Team NOVA PW Hoyas
42-19 Win over IMG Performance
55-57 Loss to Crusader Nation