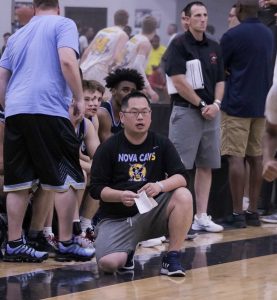 Jerry Lin – 17U Head Coach
Coaching Experience:
Current Varsity Assistant Coach, Fairfax High School
14 year high school coach
9 years at Marshall HS
2 years as Varsity Assistant at Freedom South Riding HS
Entering 15th season as NOVA Cavaliers AAU Head Coach
George Mason University graduate
Current Intervention Support Specialist, Marshall High School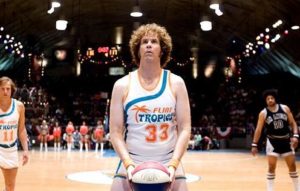 Mike Barbee – 17U Assistant Coach
Coaching Experience:
Current Head Varsity Coach, Fairfax High School
14 year high school coach
7 years as a head coach
3 year NOVA Cavs Coach
Coach of 7th grade FPYC Travel Team
5 year coaching in Turnpike Basketball
Christopher Newport University graduate
7 years coaching at W.T. Woodson high school
Current History Teacher, Fairfax High School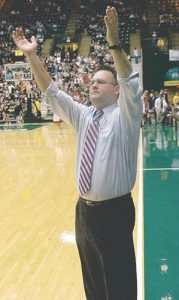 Kevin Weeren – 17U Assistant Coach
Coaching Experience:
24 year high school coach – 10 years as a head coach
8 years at Marshall HS – 2006 Northern Region Runner-Up & State Semifinalist
Northern Region Coach of the Year 2002 and VHSL Coach of the Year 2006.
2 years as Head Coach at Freedom South Riding high school
Current Assistant Athletic Director, Riverside High School

Bruce Fort – 17U Head Coach
Coaching Experience:
10th season at Marshall high school, current varsity assistant coach
Former Northwestern (MD) high school assistant coach
Former Suitland (MD) high school head coach
Physical Education Teacher, Kenmore middle school (Arlington, VA)

Daniel Vroman – 17U Assistant Coach
Coaching Experience:
6th season at Fairfax high school, current JV head coach
5 years as assistant on the Freshman/JV staffs
2nd year as NOVA Cavs Coach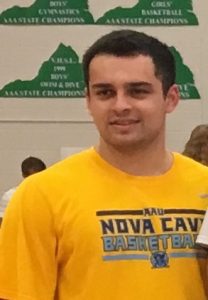 Ross Callaghan – 16U Head Coach
Background:
Coach Callaghan is entering his third year with NOVA Cavaliers.  He was an assistant under Shawheen Dashti over the past two seasons.  Coach Callaghan played 3 years of varsity basketball for Langley high school in McLean, VA where he earned Second Team All-Conference honor his senior year.  He currently works at Freddie Mac in McLean.
Experience:
Three year letter winner at Langley HS
Two year starter
Second Team All-Conference Player
District All-Tournament Player
Currently attending James Madison University
Langley and Fairfax summer league head coach

Mark Gray-Mendes – 16U Head Coach
Background:
"Coach Mark" is thrilled to begin his fourth season as an AAU coach with the Nova Cavaliers, having just completed his 11th year as a high school coach and his 9 year as the Head Coach at Thomas Jefferson HSST. He has been active in coaching high school players since 2002 and is firmly dedicated to the core values of hard work, discipline, leadership and teamwork that have guided him throughout his coaching career. He enjoys teaching players to "think the game" and to develop a high basketball IQ while building relationships that will last a lifetime.
Coaching Experience:
Current Head Coach, Thomas Jefferson High School
11 year high school coach
9 years as a head coach
6 year NOVA Cavs Coach
University of Virginia graduate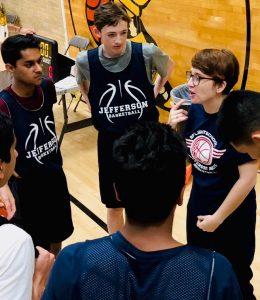 Allison Gray-Mendes –  16U Assistant Coach
Background:
Coach Allison is excited to rejoin the Cavs after a one year hiatus!  She started her career managing at George C. Marshall high school under Kevin Weeren and George Mason University under Jim Larranaga.  She holds a B.S in Sports Management from GMU.  Allison began coaching with the NOVA Cavaliers for 5 years as an assistant and provided administrative/operations support to grow the organization.  She also supports the TJHSST men's basketball program as an off-season coach, operations manager, and assistant coach.  Coach Allison consider NOVA Cavaliers teams to be her family, it's how she met her husband whom she enjoys coaching with more than anything in the world!  She currently does quality assurance assessments with CARFAX in Centreville, VA.

Joe Sullender – 15U Head Coach
Coaching Experience:
20+ teams SYA, Matrix, PSPA, Hoop Magic
Joe Sullender spent the last 12 years coaching basketball in the area, coaching dozens of teams ranging from 2nd to 11th grade at various levels.  Coach Sullender's focus is on the fundamentals and man-to-man defense, as well as teaching youth the nuances of being a good team basketball player.  Basketball is one of his life-long passions, he is very excited to start the season with his 15U team!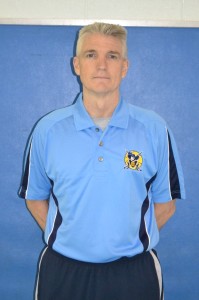 Bill Giery – 15U Assistant Coach
Coaching Experience:
5th year as NOVA Cavs Coach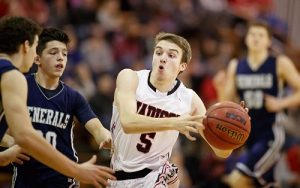 Daniel Gerke – 15U Assistant Coach
Background:
Former Madison high school varsity basketball player
2 years of NOVA Cavaliers playing experience
Attending UVA currently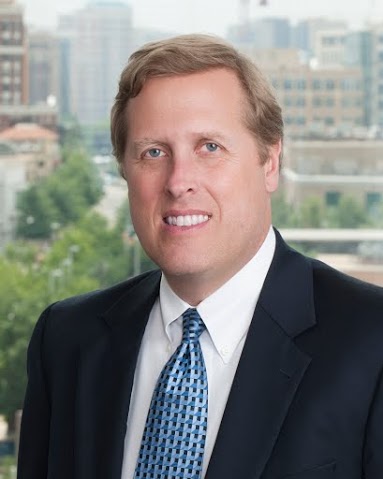 Joe Corish – 15U Head Coach
Background:
Joe grew up on Arlington, Virginia, having attended and played varsity  basketball for Bishop O'Connell High School.  He began coaching both  girls and boys travel and AAU basketball teams in 2001 including Vienna and Chantilly  travel teams at all ages.  In 2002 he formed two boys AAU teams and has coached them in local and  national tournaments throughout the past decade.   Between 2013 and 2015 he was the head coach of the boys varsity high school team at Trinity Christian High School in Fairfax, Virginia.  Joe practices law for Bean, Kinney & Korman, P.C. in Arlington, Virginia,  focusing on commercial lending, real estate and corporate matters by day.  His  primary goals during the AAU season are to teach players how to play  together as a team, continue to develop their individual skills, and stretch them to play beyond their comfort zone so they get the most improvement as possible out of the season.  He wants players to learn to compete to their best ability and with their best effort at all times, and love doing so.

Jim Briody – 15U Assistant Coach
Background:
Coach Briody grew up playing ball on the playgrounds of Rockaway Beach, New York, Al McGuire's hometown.  He graduated from Georgetown University, where he played football for four years, and the University of Virginia Law School.  He currently practices as a lawyer for Volkswagen Group of America and has been coaching basketball since 1999.
Coaching Experience:
5 Seasons AAU Assistant Coach – Vienna Magic
12 Seasons CYO Coach – OLGC (8 seasons in Division 1 of 5)
7 Seasons OLGC House League Coach
17 Seasons as VYI Coach (8 Seasons at high school level)
6 Years OLGC CYO Basketball Commissioner
2 Years OLGC House League Basketball Commissioner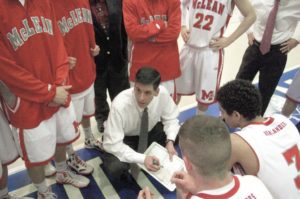 Kevin Roller – 14U Head Coach
Coaching Experience:
Current Head Coach, James Madison High School
21 year high school coach– 12 years as head coach
6 years at Madison HS– '17 Liberty Conference & Northern Region Champion
6 years at McLean HS– '12 Liberty Dist. Champion & Northern Region Semifinal
Johns Hopkins Univ. graduate, former college basketball player for Blue Jays
Tom Ferrick – 14U Assistant Coach
Coaching Experience:
Former high school head coach (McLean HS)
10 plus years of HS coaching experience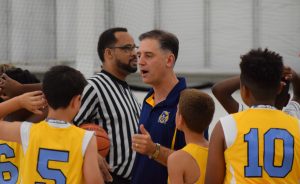 Chris DeSenti – 13U Head Coach
Background:
Coach DeSenti is excited to start his third year with the NOVA Cavs. He has 8 years of experience head coaching and assisting, including CYO and County youth basketball teams.
Coach DeSenti approaches the game with a development focus for youth players. He strives to find the right balance of developing confidence and individual potential, teaching them to apply their skills within a structured game plan, and up leveling the competitive level of team play.

David Young – 12U Head Coach
Background:
Coach Young is starting his first season with the NOVA Cavs.  He has many years of experience coaching Travel League and AAU Basketball around the local Northern VA area.
Coach Young believes passionately in teaching fundamental defense.  He is committed to teach young players about playing basketball with heart and strong effort, which will bring positive life lessons through sports experience.
He is currently a business owner and lives in Fairfax.  He grew up in the Northern VA area and has boys the ages of 18, 15 and 12.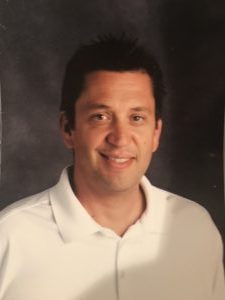 Shannon Byrnes – 10U Head Coach
Coaching Experience:
Current Varsity Assistant Coach, South Lakes High School
Current Reston Travel 5th grade Division 1 Head Coach
14 year High School Coach at South Lakes High School
2 years as Freshman Assistant Coach
4 years as Freshman Head Coach
3 years as Junior Varsity Head Coach
5 years as Varsity Assistant Coach
2 seasons AAU Assistant Coach – NOVA 94 – 9U D2 National Champions, Orlando
Virginia Tech and Marymount University Graduate
Current 6th Grade Teacher, Navy Elementary School